...
History
"Our mission is to exceed our customer's expectations." Peter Henderson, President
TIME Limited's history is a direct result of this philosophy.
TIME was originally formed out of the Morissette Manufacturing & Diamond Drilling group in Haileybury. The name Temiskaming Industrial Mining Equipment Limited (TIME) was registered in the 1970's and soon after began serving the forestry, construction and agricultural industries, in addition to mining and drilling, by opening a distribution/sales office in New Liskeard, Ontario.
Manufacturing capabilities expanded in the early 1990s when TIME acquired the building, equipment and skilled technicians from the closure of Longyear Canada's Manufacturing Division. TIME continues to supply products to drilling contractors and distributors around the globe.
In the last decade many changes have taken place. The Manufacturing and Warehousing Divisions expand. Over 6,000 square feet of manufacturing capacity, as well as modern equipment are added. Dedicated engineering and research professionals become part of the TIME team.
TIME opens sales and stocking warehouses in Sudbury, Val-d'Or Quebec, Timmins and Red Lake to better serve those active mining communities. Product lines expand with the addition of trusted names in industry: FMC Technologies (Bean pumps), Rigid Tools, and Gray Tools, to name a few.
The growth of the company is a direct result of the philosophy to exceed our customer's expectations and this is most aptly applied to the swell of product innovations and new designs that TIME is responsible for and that have their beginnings in customer challenges. Environmentally friendly products, drilling polymers for extreme conditions, pump assemblies, compressed air solutions are some examples of TIME Limited's response to customer concerns in the last decade.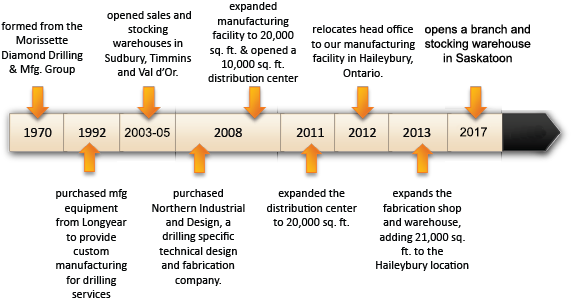 Most recently, as a result of this growth, TIME has added an 8,000 sq. ft. Distribution Center to support our divisions, to provide better customer service and to ensure long-term future growth.
In February 2017, we expanded again, adding a branch and stocking warehouse in Saskatoon, SK to better serve our customer base in Western Canada.
Today, with state-of-the-art equipment, a top notch sales force, engineering capabilities, technical know-how and the backing of top flight suppliers TIME is on the way to becoming industry's one-stop solution.