Product Added to Quote List

---




Part:

Electrolytic Concentrate 64 oz
---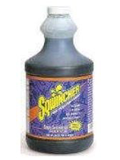 Product Number: 44-11020
When large quantities of Sqwincher are needed to cover your work crew or if you need to place Sqwincher near a cold water drinking fountain, choose Sqwincher 64 oz. bottles. The same great taste and product composition available in a liquid concentrate. Each 64 oz. bottle yields 5 gallons of finished product which mixes instantly with water when added; no stirring required.