Product Added to Quote List

---




Part:

Copper Head Anchor Shackles
---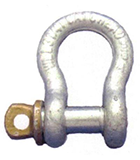 Product Number: copper-head-anchor-shackles
Copperhead™ – Screw Pin or Bolt-Type.
Federal Specifications: RR-C-271D.
Entire Range of Copperhead™ shackles conform to the federal performance requirements RR‐C 271D and the American Safety of Mechanical Engineers Standard B30.26.
Copperhead™ body and pin are manufactured of a high grade alloy steel.
Holes in the Copperhead™ shackle are drilled not punched, allowing for exact dimensional tolerances and reduced risk of stress induced fractures to hole area.
Copperhead™ thread is machined to exacting tolerances.